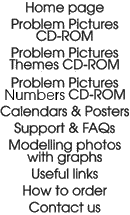 CD-ROM support & FAQs
This page answers your questions and gives details of support for the CD-ROMs. Section (A) relates to all the CD-ROMs, section (B) is just about the Problem Pictures CD-ROM (1), section (C) is just about the Problem Pictures Themes CD-ROM (2), and section (D) is about the Problem Pictures Numbers CD-ROM (3).
(A) About all the Problem Pictures CD-ROMs
How can I obtain technical support?
If you have problems using the CD-ROMs please first check the questions and answers on this page. If you cannot find an answer here, send an email to support@problempictures.co.uk giving full details. We regret we cannot offer any advice about installing the CD-ROMs on a network.
What is the difference between the three CD-ROMs? Do they contain different photographs?
Problem Pictures has 184 photographs, Problem Pictures Themes has more than 300 photographs and Problem Pictures Numbers has more than 600 photographs. The three collections are similar in approach but, as its name suggests, Problem Pictures Themes has a larger proportion of pictures grouped into themes or topics. Problem Pictures Numbers has a wide mixture of pictures and also includes a section about the integers from 0 to 220.
All discs are now available in editions that run in a web browser (e.g. Internet Explorer or Mozilla Firefox). This makes it easy to copy and paste photos and text into other applications. These browser editions run on PCs, Macs, Linux or any computer with a web browser. Problem Pictures is also still available in its original PC only edition.
If you want to order only one of the discs, it is suggested that you begin with the Problem Pictures disc. However, if your interest is in superimposing graphs on photographs go for Problem Pictures Themes.
The photographs on the three CD-ROMs are different except, that five pictures on Problem Pictures are duplicated on Problem Pictures Themes, and that Problem Pictures Numbers includes low resolution versions of about 40 pictures from the other discs in the Numbers section.
May we order the discs 'on approval'?
We regret we cannot send out the discs on approval.
Do I need a site licence?
See the information page on the Badsey Publications website.
I am a teacher with a single user copy. May I use it in my classroom?
A teacher who purchases a single user copy may reproduce material from the disc for use in his or her classroom. At any time, the disc must not be running on more than one computer. If you want to run it on several computers at the same time, or place it on a school network, your school must purchase a site licence.
Can I use the disc to make my own worksheets and acetates?
Teachers will find it easy to use the photographs and text to make their own display material, worksheets and acetates. A teacher who purchases a single user copy may reproduce material from the disc for use in his or her classroom. A site licence allows use throughout the school or college.
The photographs are stored on the discs as 1365 x 1024 jpeg files which can be imported into a wide range of software and printed. On A4 paper these give a resolution of 123 pixels/inch, and on A3 paper, 87 pixels/inch.
How can I upgrade from a single user copy to a site licence?
If you have already purchased a single user copy, you can upgrade to a site licence by paying the difference in the cost. There are more details on the Badsey Publications website.
We have a site licence and are planning a training day in a local teachers' centre. May we temporarily install the software on their server?
Yes this is permitted on these conditions: (1) that the software does not remain on an external server for more than 4 weeks in any year, (2) that you are responsible for ensuring the software is deleted after use, and (3) that the majority of people using the software are staff or students from your institution. If you want to use it in other ways, please check with us first.
We have a site licence. May we install the software on the kind of network that allows our staff and students to access the materials at home?
We are reviewing this issue. Currently our policy is to permit this as long as a school or college takes all reasonable steps to prevent access by third parties. At very least we would expect password protection. We reserve the right to change the rules on this if necessary.
Are you interested in suggestions for future Problem Pictures?
Yes please! If there are types of photographs you would find useful for mathematics teaching, do please let us know and we will try to include them in future publications. We also welcome comments on how the material is presented on the discs. The easiest way to contact us is to email support@problempictures.co.uk
Can you publish my photographs?
Unfortunately we are too small an organisation to take on the publication of photographs by other people. But we recognise that a number of people are doing interesting and innovative work in this area. If you are someone who takes photographs to support the teaching and understanding of mathematics, try to make them available. One possibility is to publish them on a website. If you let us know the website address, we will link to it.
We run a network. How can we install the CD-ROMs?
The original Problem Pictures CD-ROM is launched from a .exe program. The other CD-ROMs run in any web browser. They are launched from an index.htm file. The CD-ROMs do not use MSI (windows installer package) or similar installer packages. We regret we cannot offer detailed instructions for installation on particular networks. Please check you have a site licence for each CD-ROM you are installing.
What is the 'Mathematical World' CD-ROM? Are there American versions of the CD-ROMs?
Mathematical World was a version of the Problem Pictures 1 CD-ROM for the North American market which was published by Key Curriculum Press in 2005. It may be out of print. Its content was the same as Problem Pictures 1 but with US English. It was never published in a web browser version. There are no North American versions of Problem Pictures 2 and 3.
---
(B) About the Problem Pictures CD-ROM (1)
Does the disc include solutions?
For each photograph there is a second page giving hints, solutions and extensions.
Which of the two Problem Pictures editions should I use?
From February 2011, all customers are sent both editions and so it is no longer necessary to specify which edition you want when ordering.
The choice is yours. If you are uncertain, we suggest you use the web browser edition because this will run on any computer with a web browser. It also makes it easier to copy and paste the contents to other applications.
Does the original edition run on all versions of Windows?
Yes, to the best of our knowledge.
What extra resources are available for site licence holders?
On the disc with the web browser edition are some other resources that let you hide the MORE buttons in the original PC-only edition.
I use the PC-only edition and want to bookmark some pictures. How can I prepare it on my machine at home and transfer it to the one at work? Where are the bookmarks saved? Also, is there an easy way of changing the order once saved?  
The bookmarks are stored in a file called P_Pics.bmk on your hard disc. Use file search to find the location of this file on your computer.
If you copy this file from your home computer into the equivalent directory on your work computer, the bookmarks should transfer across. Unfortunately, there seems to be no easy way of editing the order of the bookmarks.
Corrections
(These corrections have been made to the web browser edition.)
A photograph showing Islamic knot patterns (A76) is upside down. We apologise for this.
The captions with the lampshade (K01) suggest the shadow is a parabola but it is probably a hyperbola. The explanation makes more sense if 'hyperbola' is substituted for 'parabola' throughout.
On the subject of bolts that are difficult to undo (D56), a rhombus shaped bolt could be undone with a conventional spanner (wrench). A kite-shaped quadrilateral would be more difficult to undo.
Credits. The correct spelling should be Keith Birkinshaw - sorry Keith!
---
(C) About the Problem Pictures Themes CD-ROM (2)
Does this run on Macs?
The 2006 and 2009 editions of Problem Pictures Themes run on both Macs, PCs and any computer with a web browser.
Where are the answers?
The 2006 and 2009 editions of Problem Pictures Themes include hints and solutions for most of the photographs. Read the Introduction page for details.
What changes are in new editions?
With the publication of the April 2006 edition, the number of photographs increased from 200 to 300. Most photographs have a second page giving hints and solutions. Site licence holders may block access to these pages if they wish. The disc now runs on Macs as well as PCs. The April 2009 edition has minor changes including better indexing and nine more photographs.
What software do I need to superimpose graphs on photos?
There is no plotting software on the Problem Pictures Themes disc but it is easy to copy photos and paste them into other applications. We understand that the following packages are suitable for the modelling activity where the graph of an equation is superimposed on a photo -
Autograph 3.2 or later
Geometer's Sketchpad version 4 or later
Cabri Geometry version 2 or later
Derive version 6.1 or later
We would welcome corrections and additions to this list.
What is Maths Gallery?
Maths Gallery is a selection of materials taken from Problem Pictures Themes which some UK schools received free of charge during 2005. Maths Gallery cannot be purchased and it is not distributed outside the United Kingdom. Badsey Publications regrets it cannot offer support or advice on using Maths Gallery. Please note Maths Gallery is not in the public domain and unauthorised copies should not be distributed.
Corrections
In the 'Information and Activities' for U-Shaped Curves it is stated the shadows from the lampshade are parabolas. In fact they are hyperbolas. This is corrected in the 2009 edition.
---
(D) About the Problem Pictures Numbers CD-ROM (3)
When was this published?
6 April 2010. A revised edition was published in March 2012 with some additional photographs and activities.
What computers does it run on ?
It can be run on any computer with a web browser.
How many photos are included?
The 2010 edition has 649 photos. Of these, 507 are in the Numbers theme and 142 in the other themes. About 40 of the photos in the Numbers themes have also appeared on one of the previous CD-ROMs and so are not available at the 'extra large' resolution.
---